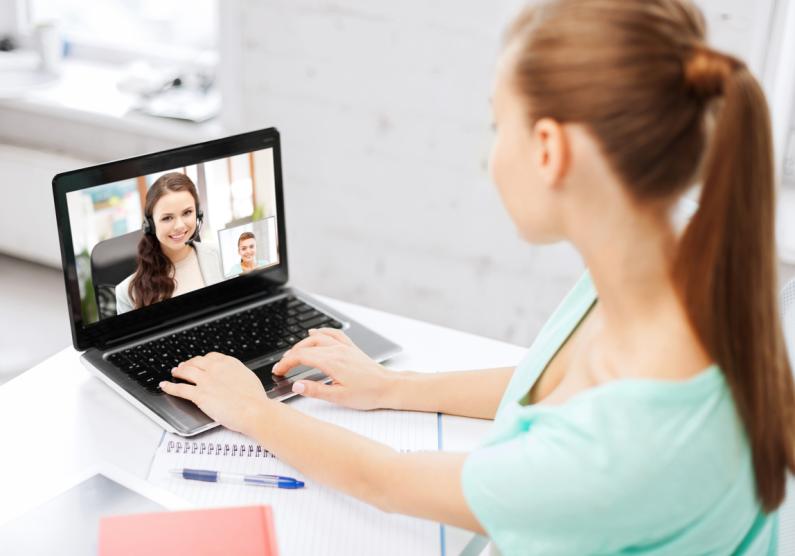 Are you looking for a simple and effective solution to transcribe a Microsoft Teams meeting? In this article, we outline different methods you can use to transcribe your meeting.
Transcribe a live meeting to Microsoft Teams
Microsoft Teams, a highly popular tool in the business world, offers numerous features adapted to the needs of business professionals (chat, video meetings, file storage, etc.). In particular, during video conferences, this platform has an audio-to-text transcription feature that uses Artificial Intelligence to allow participants to obtain an instantaneous transcription of their conversation.
How do you transcribe a live meeting in Microsoft Teams?
Here are the main steps you should follow to transcribe a meeting via Microsoft Teams:
During your business meeting, click on the 3 dots at the top of the screen (next to the camera icon) and then click on "Start Transcription". This automatic transcription feature on Microsoft Teams appears by default during your meeting.
Check the transcription language (it must be the same as the language spoken by the participants). You can change it by going to the Transcription Settings, at the top right of the window, then to "Change the spoken language" (There are 34 languages available on Teams).
Participants will see a notification that the transcription has started, which will be displayed live during the videoconference on the right-hand side, with the name of the speaker and the respective timing (you can hide the transcription by clicking on "Other actions" and then "Hide transcription").
You can stop the transcription at any time.
At the end of the meeting, download the transcription (it will be available directly after the video, in the event, on the Teams calendar). You can download it in .docx or .vtt format.
Recording a live meeting on Microsoft Teams: advantages and disadvantages
Here are the main advantages of recording your meeting live on Teams:
It is a particularly useful feature for the deaf and hard of hearing, but also for foreign speakers.
It provides a visual aid to help people understand the discussions during a meeting especially if it is held in a very noisy environment for example.
You can search for words/information in the transcription using a search bar.
You can also choose to view the exchanges in subtitle form during the meeting.
All members of the same Teams account can start, stop, view, and download the transcription at any time.
Participants can choose to hide their identity and not appear in the transcription.
However, there are some limitations when transcribing a live meeting on Teams:
This feature is only available on the desktop version of Microsoft Teams (not the browser).
The quality of the transcription depends on the quality of the audio, which will vary greatly from one participant to another (depending on the microphones used, the environment, background noise, clarity of speech, etc.)
This feature is currently only available to Microsoft 365 subscribers with specific licences (Office 365 E1, A1, A3, A5, E3, E5, F1, F3, Microsoft 365 Business Basic, Microsoft 365 Business Standard, Microsoft 365 Business Premium).
Other ways to transcribe Teams meetings
In addition to this built-in transcription tool, there are other methods you can use to transcribe a Teams meeting easily.
Using software to transcribe a Teams meeting
Here's how to transcribe a Teams meeting using automatic transcription software:
Record your meeting. To do this, click on the 3 dots at the top right of your Teams meeting window, then click on "More Actions", then "Start Recording".
You and the other participants will receive a notification that the registration has started.
You can stop the recording at any time in "Other actions".
At the end of the meeting, go to your Teams recordings and upload the audio file of the meeting you wish to transcribe.
Choose an automatic transcription software and follow the instructions to get your transcription.
Export your transcription in the text format of your choice (PDF, HTML, TXT, DOCX...)
Review and edit your team meeting transcription.
This is a quick and easy way to get a transcription in a few minutes. These tools are generally inexpensive and sometimes offer free trials. However, you should bear in mind that a Teams meeting transcription produced with automatic software can often be unreliable and incomplete.
Transcribe a Teams meeting manually
You can also choose to transcribe your Teams meeting manually. To do this, simply record the meeting beforehand, then type the text while listening to the audio. This solution has the advantage of being free of charge and does not require any particular technical skills.
However, this method of transcribing Teams minutes is very time consuming (approx. 5-6 hours of work will be needed for one hour of audio). The work will be even more tedious if there are a large number of speakers. You will need to draft, revise, proofread, and correct a number of times to obtain a decent result.
Using a professional to transcribe your Teams meeting
To easily transcribe a Teams meeting, you can also use the services of a professional transcriber from a transcription agency such as Optiwords. Our experienced native transcribers work in over a hundred languages (French, English, Spanish, German, Portuguese, Russian, Arabic, etc.).
With their expertise, language skills and writing abilities, they will deliver reliable, smooth, and error-free Teams meeting transcriptions that you can use, and share, with your clients, partners, and teams with confidence.
Our answers to your questions about Teams meeting transcription
Microsoft Teams offers subscribers an instant transcription feature that allows them to transpose speech into written form. The transcription can appear with captions or in a sidebar tab as the meeting progresses. To enable automatic transcription on Teams, click on "Start Transcription" in the additional options on the meeting screen (the 3 little dots ...) .
Machine translation is enabled by default on the Teams account. Every user can use this feature. The target language is the default account language set in the language settings. You can disable this automatic translation option on Teams in the Administration Center, in the "Messaging Policies" tab.
To translate a message in Microsoft Teams during a chat, go to "More options..." and then the "Translate" button that appears at the top of the message. The instant translation will be automatically generated, in the language set by default on your Teams application. The platform allows you to translate messages from and into more than 50 languages (French, Italian, Albanian, Arabic, Indonesian, Russian...).