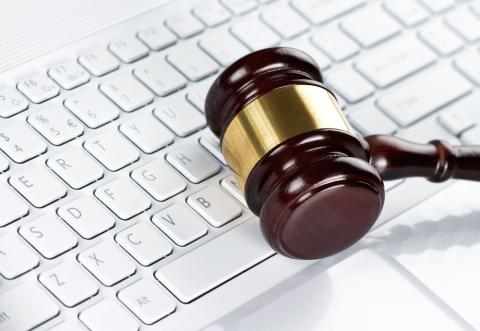 Are you a lawyer, solicitor, bailiff or notary who needs an audio or video transcript as part of your professional activity? Our transcription agency Optiwords provides legal transcription services, delivered by professional transcribers.
What is a legal transcription? Definition
Legal transcription is the conversion of an audio or video file from the legal sector into written format.
This type of transcription is necessary in many instances. Indeed, audio recording of legal, judicial and notarial proceedings is very common. Legal transcription is often required for the following:
bailiff's reports
referrals of hearings
legal acts
interviews with legal experts
disciplinary hearings
contracts
witness statements
court proceedings
reports
leases
inventories
judicial instructions
affidavits
oral wills and other executory documents
Audio-to-text transcription in the legal field will make it possible to formalise or certify an official exchange or an act delivered orally, which can then be transformed into a legal document (will, birth certificate, civil status certificate, etc.).
Optiwords, legal transcription agency
At Optiwords, we provide professional transcriptions for the legal sector. Our transcribers are fully familiar with legal jargon and are trained in this type of transcription. They also have a sound knowledge of criminal law, labour law, company law, the civil code, etc.
Our professional transcribers transcribe your legal audio and video content with the utmost precision, reliably and in total confidentiality. For added peace of mind, we can sign a confidentiality agreement.
We are also able to translate your legal audio and video content into almost 100 languages (French, English, Spanish, Portuguese, Arabic, German, etc.).
FAQ about legal transcription services
There are many automatic transcription solutions on the market, with free software. However, this type of service is rarely qualitative; there are often many errors and you will often need to do a lot of rewriting. Using a professional transcriber who specialises in legal transcriptions guarantees you will receive a high-quality, accurate document that can be used immediately. Accuracy is particularly important in legal documents, as the slightest error can completely distort the value and meaning of the text.
You can send us your audio or video file in whatever format you like (MP4, AVI, MKV, MP3, AAC, WAV, MOV, YouTube link...). However, you need to ensure that the audio is perfectly clear and intelligible; otherwise our transcribers will not be able to deliver the transcription.
Confidentiality is an essential aspect of any business, let alone a legal one. To ensure the confidentiality of your legal transcripts, you should use the services of a well-established and transparent transcription agency. Also you should consider signing a confidentiality agreement for complete security.