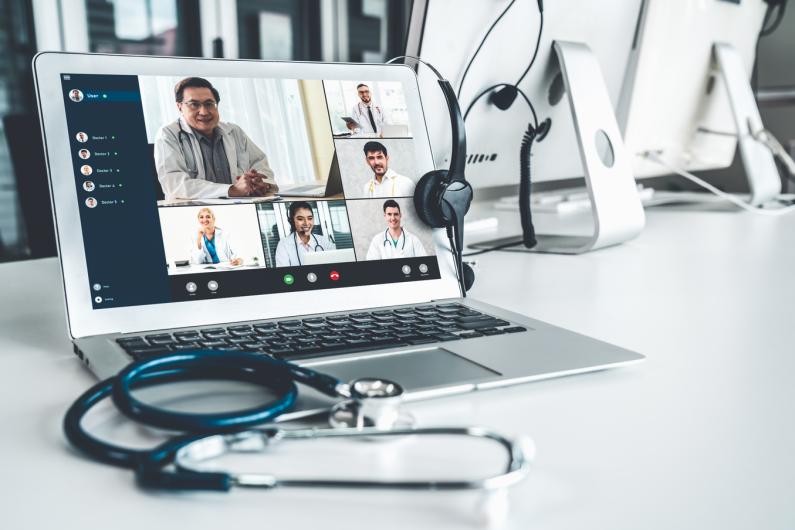 What is a medical report transcription? What are the issues involved? And what method should you choose to carry out this highly technical audio or video transcription? Discover how to benefit from a high-quality, secure medical report transcription.
What does medical transcription involve?
Medical transcription involves transposing audio or video files from the healthcare sector into written form. A good transcription must therefore faithfully and accurately reproduce the oral content into written language.
Medical transcription is frequently required in the healthcare sector. To save time, many doctors and other practitioners prefer voice recordings to note taking.
Medical transcription can be required for different types of content including:
Information relating to a patient's medical file (state of health, prescription of medicines, medical analyses, and tests, etc.)
Medical diagnoses
Post-surgery medical reports on the results of the operation
Analysis of medical imaging
Voice notes from the doctor during a medical consultation
Audio medical monitoring to evaluate the evolution of a patient's state of health during hospitalisation after surgery, for example
A recorded medical report often needs to be transcribed. The report is a medico-technical report that brings together all the information relating to a medical procedure. This document is drawn up following each consultation or intervention with the patient. Once written, the medical report can be used by medical professionals such as general practitioners and specialist doctors, and hospitals etc.
Medical transcription can also involve recordings of medical conferences, colloquia, symposia, or video meetings between professionals within a medical environment (hospital, health clinic, medical analysis laboratory, dental surgery, etc.).
Transcription of a medical report: specifics and issues
As with all documents in the healthcare sector, a medical report contains a wealth of highly technical information and terminology. This information must be transcribed with the utmost accuracy, or there can be damaging consequences. An incomplete, erroneous or flawed transcription can mislead the practitioner and generate considerable ambiguity or misunderstandings. This can lead to medical errors that could jeopardise patients' health.
What's more, when transcribing a medical report, the transcriber must respect the total confidentiality of patient information and data. It is therefore essential to use the services of a trusted professional.
How do you transcribe a medical report?
There are several methods available to healthcare professionals for transcribing video or audio medical reports. Here is an overview of the advantages and disadvantages of each method:
Entrusting the transcription of your medical report to your secretary
Many doctors choose to delegate the transcription of their reports to their medical secretaries. This solution often involves the secretary or assistant transcribing the audio file manually.
This is a particularly complex, tedious, and time-consuming exercise. It is imperative that the person in question has a sound knowledge of medical terminology, as well as excellent writing skills. The task also requires great vigilance, an eye for detail and a great deal of precision to ensure that the results are reliable and free from errors or ambiguities.
What's more, transcribing an audio medical report is a very time-consuming task: on average, it takes 6 hours of work for 1 hour of recording (this can vary depending on the typing speed).
Automatic online transcription
There is now a very wide range of automatic transcription software available online. However, although these tools are inexpensive (some are even free), the results are unreliable and unpredictable. Given the stakes involved in medical transcriptions, this transcription solution is strongly discouraged.
Using experienced professional transcribers
The best way to guarantee an accurate, exhaustive, and high-quality medical transcription that is faithful to the original audio and well executed is to call on the services of experienced audio transcribers, who are meticulous, skilled in the production of medical transcriptions, and who have excellent writing skills.
Why use a professional transcriber to transcribe a medical report?
Outsourcing your transcriptions of audio reports to a specialist transcriber is the only way to get a professional, fully usable result.
There are a number of advantages to doing this including:
You will receive an accurate, precise, and faithful transcription of the original audio
The transcriber will have an excellent grasp of medical terminology
You will get high-quality editorial output
The service is tailored to your needs
The transcriber will have a sound knowledge of the healthcare environment and the issues involved in such transcription
The medical data and information will be treated with the strictest confidentiality (a confidentiality agreement may be drawn up prior to the assignment)
You will receive a meticulous, structured rendering, which meets your expectations.
Answers to your questions about transcribing a medical report
The doctor or medical secretary must draw up a report after a medical consultation, as part of patient follow-up. This document brings together information such as medical history, treatments, symptoms, etc. To save time, the doctor can produce the medical report in audio form, using a Dictaphone, or other recording tool.
A medical report can be dictated live, or via a recording, by the doctor to his medical secretary, who is responsible for taking notes. This method makes it possible to record, verbally, information such as diagnosis, state of health, prescribed treatments, etc. This medical dictation is used as the basis for writing the report.
The best way to transcribe an audio or video medical report is to use an experienced specialist professional transcriber. Thanks to their excellent command of medical terminology and the steps involved in transcription, they will be able to produce a complete, methodical, and accurate document.