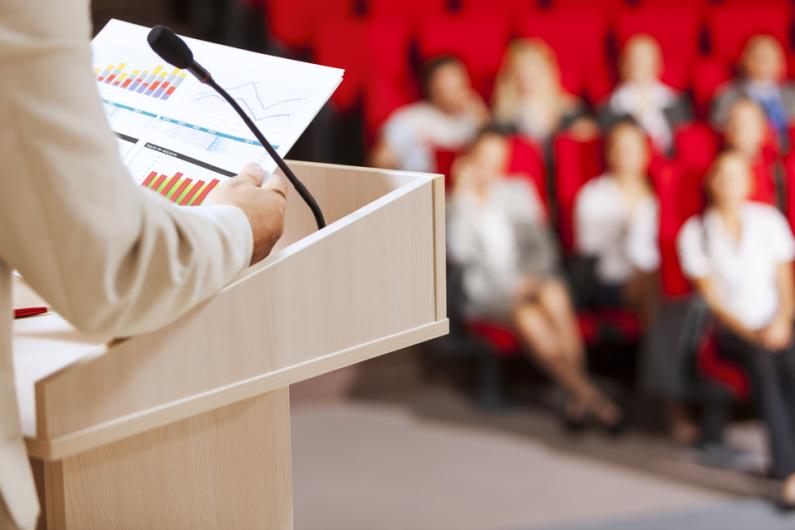 What is a conference transcription? What are the special features? And which transcription method should you choose? Discover how to produce a reliable, efficient, and high-quality conference transcription.
Conference transcriptions: what makes them special?
Conference transcription covers a wide range of subjects in a wide range of sectors (health, engineering, science, journalism, literature, etc.) and might be needed for scientific and medical conferences, university colloquia, seminars, press conferences, video conferences etc.
Furthermore, this type of content frequently uses highly technical terminology, which makes the transcription process particularly complex.
For a successful conference transcription, you should therefore use an experienced transcriber who specialises in the subject covered at the conference.
The conference may be in video format, in the case of a filmed conference or a recorded conference call, or in audio format, in the case of a voice recording of a conference or telephone conversation, for example.
Furthermore, recordings of conferences can often contain ambient noises (audience reactions, laughter, applause...), questions from the audience and, as with all audio content, awkward speech or pauses etc. These are all elements that the transcriber can choose whether or not to include in the transcription.
What type of transcription should you choose for a conference?
There are several different types of transcription, including:
Verbatim transcription
This type of transcription reproduces the entire content of the conference, word for word, without modification. As a result it includes the specificities of spoken language (syntax errors, repetitions, hesitant wording, etc.) as well as ambient noise and audience reactions. The advantage of this type of transcription is that it makes the entire content of the conference accessible to the hearing impaired.
Summarised transcription
A summarised transcript contains only the key elements of the conference, for a concise, streamlined result. This type of transcription is particularly suitable for producing reports, summaries, or newsletters and content for social networks, etc.
Clean verbatim transcription
This last form of transcription is a full written transcription which aims to provide content that is free from the syntax errors and language hesitations associated with the spoken word. This type of transcription is suitable when you need to produce an editorial-quality document that is ready for publication, while retaining the full content of the conference recording.
What method should you use to produce a conference transcription?
There are several ways of transcribing a conference recording:
Transcribing a conference manually
Manually transcribing a conference is a laborious process. It can take on average six hours to manually transcribe a one-hour conference or symposium. So it's an extremely time-consuming method, which also requires excellent listening and concentration skills, as well as solid writing skills.
Using online transcription software
Using online video transcription software (free or paid) is another possible solution for transcribing a conference. However, this process often requires the video to be converted into a usable audio file.
What's more, using automatic transcription software requires considerable proofreading and correction work, as it frequently contains lexical errors, syntax mistakes and other awkward errors. The result is often random and not very faithful to the original content.
Once transcribed, there is also a risk that the conference will be out of sync with the original audio.
Using a professional transcriber
To obtain a reliable, high-quality conference transcription, you should use an experienced professional transcriber, who will accurately and precisely transcribe all the speech in the video, and will guarantee that you receive a document that is complete, fluid, error-free and faithful to the conference itself.
The specialist transcriber will be perfectly familiar with the sector of activity concerned by the conference (medical, scientific research, journalistic, business, etc.), and the final document will accurately and precisely reflect the technical terms used by the speaker.
Thanks to their perfect command of the target language and their high-level writing skills, professional transcribers produce accurate work and a service that is tailored to your needs. What's more, they guarantee strict confidentiality in the course of their work and offer you the option of signing a confidentiality agreement to protect your information.
FAQ about transcription services of conferences
Meeting transcription can be done manually or by using automatic online software. However, the most reliable method is to use a professional transcriber. They have the necessary know-how to guarantee a reliable, high-quality result that meets your expectations.
Transcribing a conference has a number of advantages including:
Making the conference accessible to as many people as possible, especially the hearing impaired
Providing you with a document that is easy to summarise, analyse, and share with a wide audience
Allowing for translation and multilingual dissemination of the written content resulting from the conference.
There are several possible ways to transcribe a conference into text: manual transcription, the use of automatic online transcription software or the use of a professional transcriber. The latter option is the best way to guarantee that your document is perfectly usable, is of a high quality and is faithful to the content of the conference.