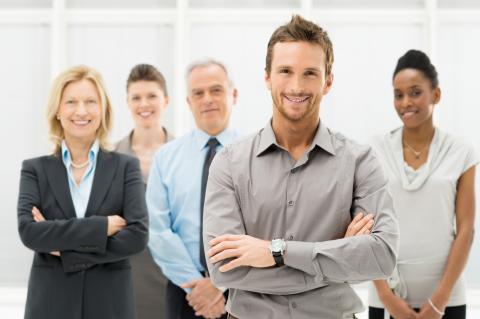 Our 80 transcription agencies in Europe (with two in the UK)  have helped both to establish our company as a market leader and, at the same time, to retain a close and very special relationship with our clients.
With 3,500 people working for us, and a total of 80 agencies, we offer a wide range of language services for businesses. As well as transcription and translation, these also include interpreting, proofreading, voice overs, subtitles and desktop publishing.
We promise our clients full satisfaction:
Value for money at competitive prices,
Tried and tested confidentiality,
Never missing deadlines,
Acknowledged quality of service.
This is how we guarantee the very highest quality work
We also choose and retain only the right people with the right training to work with, another reason why we are able to offer services that are up to the standards of even our most demanding clients.
A transcription partner you can trust
Over the last 40 years the success of the Optilingua Group has been built on a unique international network which handles all transcription and translation work in a broad range of languages across all media, thus offering a one-stop solution.
We help our clients implement their plans by drawing on an in-house and international organization which is always ready to respond to their needs or anything they might ask us for, combined with genuine communication between the various agencies, networks and clients.
We adapt the way we work to meet our clients' deadlines, also offering total confidentiality, and this is how we build up relationships based on mutual trust. Optilingua's specialist subsidiaries and network of partners mean that we can quickly find the right professional for the job – this is a promise we make to every one of our clients.
Everyone we work with is trained in the Optilingua Group's own working methods and learns how to use our highly efficient intranet.
All our transcribers, copywriters, translators and proofreaders are chosen for their attention to detail, skills and know-how; they have to meet all of the very high standards set by the Optilingua Group.
We work in the following areas of business:
Industry
Environment
Medicine
Trade
Mechanical engineering
Chemicals
Logistics
Law
Finance
Electronic
IT
Communications
Marketing
Agro-food
Scientific
...
Confidential Transcription Services: A Secure Process
A methodical approach offering both attention to detail and confidentiality.
In order to guarantee that we can offer you the kinds of service you are looking for, all transcription and translation work is handled by qualified professionals who are familiar with terminological research in a full range of cutting-edge fields (legal, scientific, medical etc.) and who have both experience and know-how not just in translation and audio transcription but also in copywriting, publishing and proofreading. Our translators work only into their mother tongue.
In order to allow us to gain an in-depth, detailed understanding of what you are looking for, so that we can always deliver work which is up to your own standards as quickly as possible, right from the moment when you ask for a quote, you will be able to speak to one of our qualified project managers who will build up a personalized working relationship with you.
All the people who work at Optilingua-Transcription undertake the treatment of any document or medium entrusted to them as strictly confidential, and all our transcribers and translators abide by ethical confidentiality rules.
Our References
You can trust in us!
For 40 years, Optilingua Group utilizes a single network, present at international level, for all of your transcriptions and translations in any language combination, ​​and in all formats to meet  your every request .
We support our customers with their projects through internal and international organization. We listen to every need and demand with strong communication between all of our agencies, networks and clients.
We adapt our services to meet deadlines and work in confidence to create a relationship of trust with every customer. Optilingua, through its specialized subsidiaries and its network , ensures each client, despite the timeframe, can find the professional that meets their project requirements.
Each employee is trained in the working methods of the Optilingua Group, and the use of an effective intranet.
Our team of transcribers, editors, translators and revisers are chosen for their rigor, their skills and knowledge, and meet every one of the requirements at the Optilingua Group.

Our Industry Sectors:
Environment, medicine , commerce, mechanics, chemistry , logistics, law, finance, electronics, IT, legal, communications, marketing, food manufacturing, scientific etc.
ABB CONTROL - AGIP - ADIDAS - AEROPORTS DE MARSEILLE - AEROPORTS DE PARIS - AUCHAN - AUTOROUTES DU SUD DE LA FRANCE AXA ASSURANCE - CAISSE D'EPARGNE - GROUPE ACCOR - CANAL + - CASIO - COFIDIS - COCA COLA - CARGLASS - CARREFOUR - ERNST & YOUNG - EUROP ASSISTANCE - FNAC - GROUPAMA - HITACHI - IKEA - LABORATOIRES BOIRON - LG ELECTRONICS - MAJORETTE MOTOROLA - NOVARTIS - NATIXIS - NESTLÉ - NINTENDO - NOKIA - NORDSON FRANCE - PLAYMOBIL - PORSCHE - PUMA - PYRO ALLIANCE RED BULL - REEBOK - REPSOL - SAINT GOBAIN - SYMANTEC - THALES GROUP - THYSSEN GROUP - TOSHIBA - TOTAL - XEROX - A+ ...
To judge the quality of our work, contact our professionals by email, where you can request, a free, no obligation quotation.