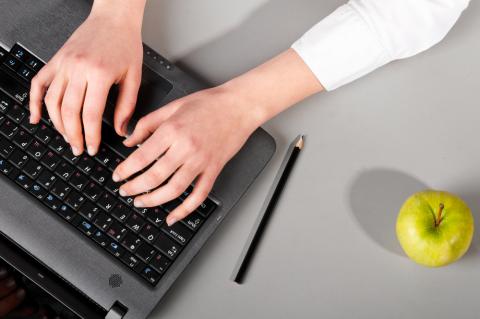 Our transcription agency Optiwords provides verbatim transcription services for your audio or video recordings, in a wide range of specialist areas and in around a hundred different languages. Thanks to the expertise of our seasoned professional transcribers, you will obtain a complete, accurate and faithful transcription of your recording.
What is a verbatim transcription?
Verbatim transcription, also known as word-for-word transcription or literal transcription, is a type of transcription that aims to reproduce the entire original audio or video content in written form.
It is therefore the closest form of transcription to the oral form.
It is a faithful reproduction of the original speech, leaving no room for interpretation. There are no changes or rephrasing: you are guaranteed a transcript that is perfectly aligned with your audio file.
This type of transcription fully reproduces every aspect of the speech used in your audio or video recording. The transcriber respects the words and turns of phrase used, incorporates hesitations, repetitions, tone, onomatopoeia and any awkwardness that is typical in spoken language. Speakers' names and questions are transcribed in full. The verbatim transcription also includes, in brackets, atmospheric elements of the recording, such as applause, laughter or silence.
This level of audio transcription is commonly used for transcriptions of interviews, minutes of proceedings or legal meetings, as the authenticity and integrity of the speech must be faithfully preserved.
On request, the verbatim transcription can be cleaned up, i.e. the transcriber eliminates hesitations, repetitions and spoken language errors.
Optiwords verbatim transcription agency
At Optiwords, we provide a wide range of transcription services, including verbatim transcriptions. Our professional transcribers are fully qualified and have excellent writing and linguistic skills. You will be guaranteed a reliable and meticulous verbatim transcription that is perfectly faithful to the original.
In addition, our transcribers are specialists in specific sectors of activity (medical, legal, financial, scientific, etc.). This sectoral know-how enables them to reliably and accurately transcribe all of the relevant technical terminology. They are also aware of the norms, standards and requirements specific to your field of activity.
We offer verbatim transcription services for content such as:
journalistic interviews
business meetings
general meetings
conferences
legal hearings
legal proceedings
board meeting minutes
interviews
medical reports
diagnostics or medical notes
...
We ensure complete confidentiality of your personal data and the content provided to us. We also guarantee that we will meet the set deadlines for the completion of the verbatim transcription.
If required, we can also carry out translations of transcriptions, moving from a source language, in the original audio, to a target language, in the written text.
FAQ about the verbatim transcription services
Word-for-word transcription may be required for any recording, audio or video, which requires a complete and accurate rendition. This is particularly the case for certain very formal interviews where there is no room for misunderstandings and nuances, such as legal proceedings (trials, hearings, etc.), but also certain professional meetings (general assembly, board of directors, etc.).
To produce a complete transcription, it takes an average of 6 to 7 hours of work for 1 hour of recording. The transcription process is very time-consuming, as the translator must transcribe each word precisely and meticulously: nothing must be left to chance.
It is highly recommended that you use an experienced professional transcriber to produce a verbatim transcription, to ensure a literal, reliable transcription that preserves every word of the original content. In contrast, automatic transcription software often generates omissions, errors and inaccurate renditions, which completely distort the quality and understanding of the final document.